Town is in forest, and there are the fields, and there is brook, "forest of Tamba" with village
Area where culture harmonized with nature and person
We call "forest of Tamba" and we protect carefully and bring up
For forest plan of Tamba, we place whole Tanba (Tamba Sasayama-shi, Tanba-shi) as forest of Tamba. Model Austrian "forest of Vienna." Forest of Vienna is about 1,250 square kilometers, and there is town in very large forest, and there is church, and there is vineyard, and there are communities.
About 75% were the forest, and there was town in 870 square kilometers of total areas in forest, and there were the fields, and there was brook, and there was village, and Tanba area was suggested because we resembled image of forest of Vienna. Inhabitants of Tanba area put this thought for "forest declaration of Tamba" of 1988, and they practiced. It is connected in the current figure of hometown Tamba who can be proud of the result to original scenery and reason, whole country of Japan.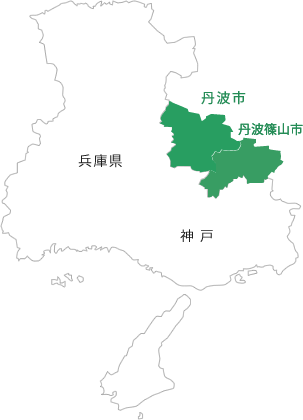 Scenery to stand out seasonally

Annual heat and cold difference, warm difference of the night and day bring about beautiful scenery every season.

River where water is divided, and level is clean

In the source area such as the Kako River, interchange on the Seto Inland Sea side and the Sea of Japan side is born and brings up various living things.

Mountain village and communities and town along way

We leave farm village communities and castle town, feature of post town along old way in now.

The mountains which surround area

Forest cover is about 75%. We surround that line of the mountains continue and surround area.

Forest where dinosaur lived

Led by "Ryu Tamba" largest in the country, discovery of dinosaur and mammalian fossil continues.

Culture of agriculture, culture of forest

In addition to culture of agriculture including Tamba medieval noh farce and Tamba ware, we are brought up in culture of forest including international music now.